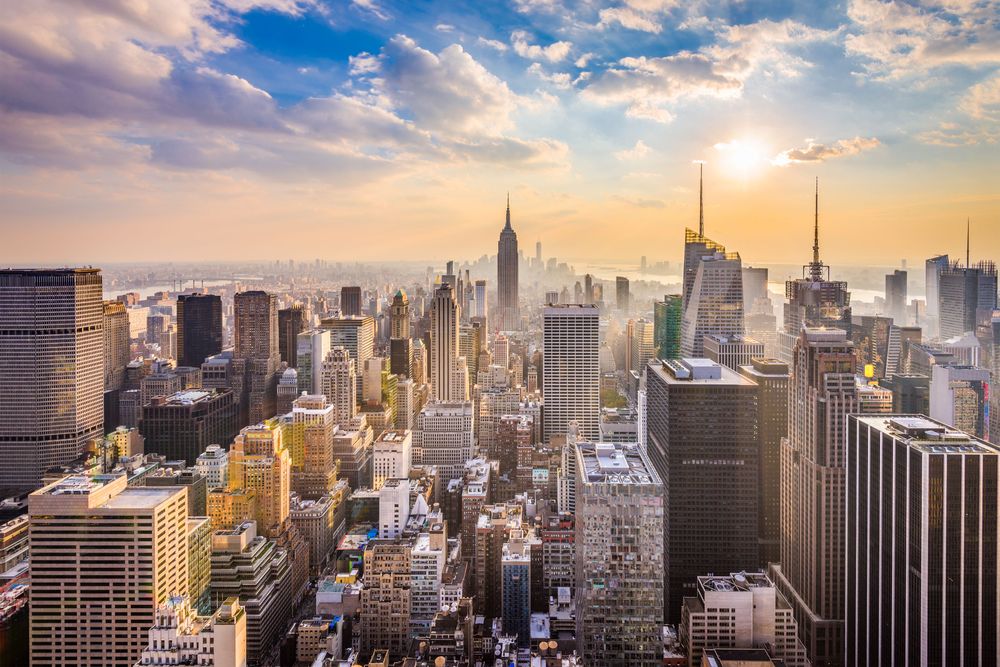 Journey through the world-city
The whole world dreams of strolling along its avenues, which have become iconic because of American pop culture. The famous American skyscrapers are far from being the only thing that makes the city famous: whether it's music, art, fashion, gastronomy or people, New York is a city full of history that you can discover again and again in many ways. In fact, it is likely that a single visit will only let you touch the surface of the diversity displayed by the Big Apple regarding all these topics. But don't worry, you'll always come back to New York.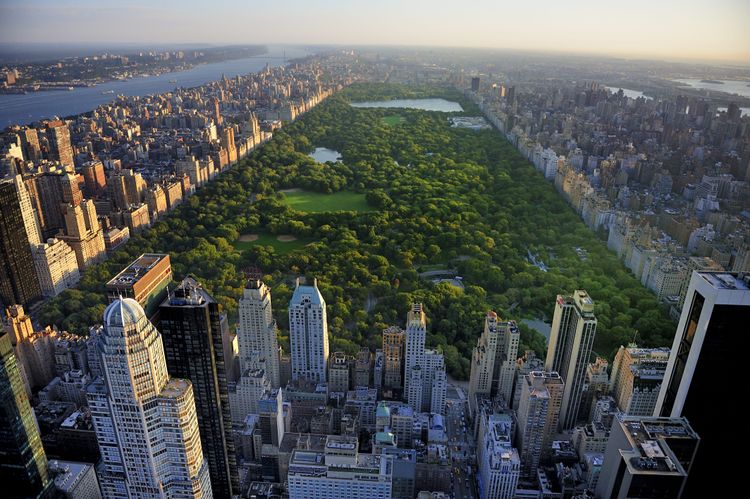 In the city that never sleeps, travel is around the corner. The cosmopolitan and multilingual city is home to communities from all over the world. Discover its many ethnic neighborhoods such as Chinatown, Little Egypt, Koreatown, Spanish Harlem and Little Guyana.
Besides, the city is great for foodies: between the American dishes such as hot dogs, burgers, pizzas, bagels, and foreign cuisines, there are few cities that rival New York's gastronomy in terms of culinary melting pot. From Thai, Vietnamese, Japanese, Korean, Caribbean, Mexican, Greek, Indian, and French food, there is something for everyone. New York is also renowned for its cultural life.
Whatever the length of your stay, round off your experience by attending some of the Big Apple's top events such as the New York marathon, the Pride, Halloween or Fashion Week.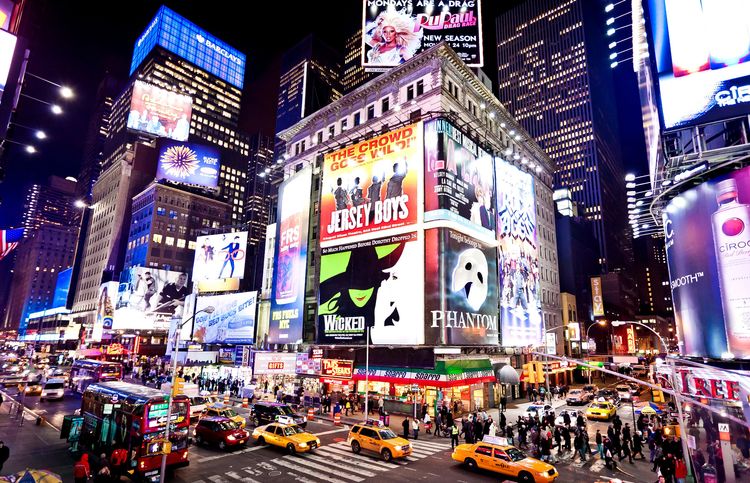 You're in New York, there's nothing you can't do! Visit the monuments, churches and museums, stroll the neverending bustling streets, with Times Square as the focal point. Drop in on the designers in Soho or TriBeCa, or splurge on Fifth Avenue. Of course, the Metropolitan Opera House and its ballet and opera shows are a must, as is a trip to Broadway.
You can also enjoy the change of architecture between the different parts of the city, walk through Central Park, listen to Gospel music in Harlem and remember that you are in the home of jazz when stopping by the Iridium Jazz Club. One thing is for sure, New York has that certain something that makes it irresistible.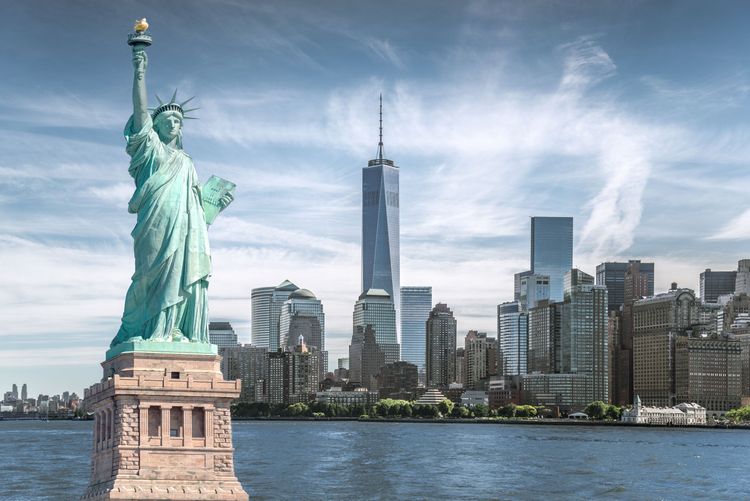 Thanks to the typically American design of the city, it is very difficult to get lost once you understand the street and avenue system. Besides, each district of New York has its own treasures. In the south of Manhattan lies Downtown Manhattan, which manages to unite the historical, administrative and economic center of the city. Wall Street and the Financial District are definitely to be seen, but a diversion to Ground Zero is also recommended, and don't forget to admire the imposing bronze sculpture of the Charging Bull.
In the center of Manhattan, you will find Midtown, which is focused on culture and architecture. There, check out the titanic New York Public Library, the Morgan Library, the Museum of Modern Art, or more atypical, the Intrepid Sea Air Space Museum... an aircraft carrier in the middle of Manhattan. It is also the district of the Empire State Building, the Chrysler Building, Grand Central Station and St Patrick's Cathedral!
Uptown boasts an impressive collection of museums: the Metropolitan Museum, the famous Guggenheim and the Whitney Museum of American Art, not to mention the American Museum of Natural History, the Frick Collection, the Jewish Museum and the Cooper Hewitt National Design Museum... So there is no risk of getting bored in the city that never sleeps.
How to get there?
Unsurprisingly, the easiest way to get to New York is by plane, and the city has three main airports: JFK (John F. Kennedy), LaGuardia and Newark. It takes about eight hours by plane (compared to ten days by boat!) and a five-hour time difference.
New York
✈️ Fly to New York!
With 3 international airports served by most airlines, you'll have no trouble finding a plane ticket to New York!
Where to stay?
New York being a huge and very touristy city, there is plenty of choice in terms of accommodation in the Big Apple. From a youth hostel, a private flat, a room in a charming hotel or in the suite of a luxurious palace... you will definitely find something to suit you.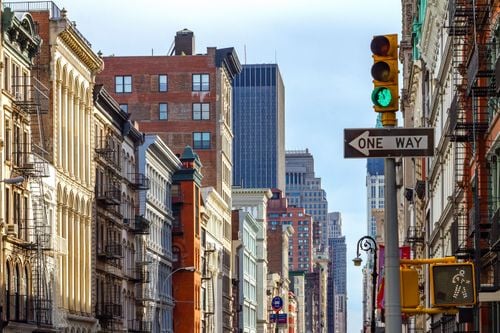 Practical information
Documents and visa
To travel to New York, you will need a valid biometric or electronic passport and a travel authorisation called the ESTA. This authorization concerns all travelers, including minors, and must be requested at least three days in advance. The ESTA costs £12 and is valid for two years or until the passport expires. Please note that the USA requires an individual passport regardless of age. Be careful, there are many ESTA scams out there, so only get it from the official website!
If your country of residence is not listed on the Visa Waiver Program or if you are staying in the US for more than 90 days, you will need a tourist visa which costs £130.
Money
The currency is the US dollar. There are exchange offices everywhere, but beware, rates are higher in airports than in the city center. We'll give you a tip: change your currency at home to benefit from a better exchange rate and prefer small denominations for tips. There are also ATMs throughout the city, but beware of commissions. New Yorkers pay for everything by credit card as it is the easiest solution, but check with your bank beforehand to avoid bank charges.
The prices charged in restaurants, taxis, hotels and shops may seem fairly affordable at first, but that's because they don't include taxes (14.75% in hotels and 8.875% in other sectors) or tips (minimum 10% of the bill, but more like 15 or 20% if you've appreciated the service). Finally, New York is a rather expensive city. A word of advice: book your accommodation several months in advance on Booking.com to get the best rates.
Electricity
The standard in the USA is 110V 60Hz, whereas it is 240v in the UK, which means an adapter is required.
Visits
As with everything else, the price of monuments and activities in New York can be quite high. A number of passes offer preferential prices on visits that are more or less unmissable. The New York CityPASS costs £106, is valid for 9 days and allows you to visit 5 of a selection of New York's most emblematic sites. GoCity's Explorer Pass allows you to visit 2, 3, 4, 5, 6, 7 or 10 iconic sites over 60 days for just £59. In the same vein, there's also the New York Sightseeing Day Pass, from £29 per day, which also includes the Hop-On Hop-Off bus.
Best time of year
The best time to visit New York is in spring, from mid-April onwards, as the temperatures are very mild, so it is perfect for walking through the avenues or picnicking in Central Park. However, in winter, the city is illuminated with the finest Christmas lights and decorations, making it well worth braving the cold. Autumn can also be very pleasant, but you should try to avoid summer as it can be very hot.
Safety
New York is a pretty safe city, but like all big cities it has its share of scams and small-time crooks, so be careful with your belongings and stay alert. Be careful with your belongings and stay alert. Avoid hanging out late at night in the party areas and in the Bronx, and remember that the emergency number is 911.
lightbulb_outline Editor's tip
Get a very good health insurance policy that includes medical care and repatriation costs, because in the event of an accident or illness, the cost of medical care can really go up in the United States, so that way you can leave with peace of mind.
explore Try out our comparators
Flights chevron_right
Accomodations chevron_right